Steel Buildings, Commercial & Industrial Metal Buildings
Steel warehouses, steel auto body shops, metal repair shops, steel buildings for the trucking industry, metal aircraft hangars, steel storage building kits, metal portable storage buildings, metal mini-storage buildings, steel structures for retail stores. 38 years of metal building design and manufacturing experience produce top quality steel buildings at substantial savings.
Crown Steel Buildings® do it all!
We specialize in high quality, 100% made in the US steel buildings, metal buildings, arch style metal buildings, roof and sidewall systems, metal pole barns, steel pole buildings, metal storage sheds, and customized steel buildings for every need. Why should you choose Crown Steel Buildings® for your metal storage buildings and metal warehouses? We deliver quality, strength, and service on steel buildings for the trucking industry, metal auto body and steel repair shops, metal retail store structures, steel storage buildings, steel mini storage buildings, and more:
Call today for our steel building specials: 1-800-457-2206, or click here for a steel building custom quote.
For details and pricing information Click here
With Crown Steel Buildings® you get all this and more!
World's most durable pre-engineered building designed to withstand the harshest weather conditions on earth including heavy snow, hurricanes, tornadoes and even earthquakes
35 year perforation guarantee backed by U.S. steel mills
40 year warranty on the paint
Maximum usable space for minimum financial investment
Completely clear span with no beams or posts to get in the way
Completely fire resistant
No rotting wood
Designed by the best engineering professionals in the U.S.
Remarkably affordable
Voted superior to similar style buildings
Made from the highest quality, heaviest-gauge commercial U.S. steel available
Simple bolt-together construction
Easily expanded to any length
Completely maintenance free
Fire resistant
Computer aided design and manufacturing
Every building custom made to customer specifications
Friendly and highly skilled customer service personnel
Manufactured exclusively in the United States
Highly versatile, perfect for virtually any commercial, industrial, or consumer application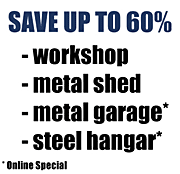 Crown Steel Buildings® offer high sidewall clearance, and an unbeatable unobstructed clear span of 100% usable space. And, they are remarkably affordable.

Now available in color!
About Us
Specials
Price A Building
Models
Assembly
Features
FAQs
Contact
Home | About Us | Contact Us | Price a Building | Request Brochure | Site Map | Links
©2009 Crown International Steel Building Systems®