Crown International Steel Building Systems®
Tough, all-steel buildings set the standard for superior metal building durability
Beautiful, affordable, a pleasure to own, Crown Steel Buildings® make your dreams come true. Whether it's a steel Arch building for backyard or commercial shop, a one- or two-car steel garage, a metal storage shed, metal horse barn, steel airplane hangar, an Arch type metal building, shelter for your boat, RV or custom vehicle, a workshop or a place to store your equipment, our American made steel buildings are perfect protectors.
Solid, secure, weatherproof
Designed to withstand high winds and heavy snow conditions, our buildings have been facing the weather throughout the United States for decades, famous for standing up to hurricanes, even tornadoes. With Crown Steel Buildings® you have peace of mind, knowing your property is safe and secure.
We are serious about quality and customer service
Our goal has always been 100% satisfaction while constantly looking for ways to improve our buildings. Each and every Crown Steel Building® is designed and tested to the highest standards of quality and is engineered to withstand the most severe weather conditions Mother Nature has to offer, including heavy snow, hurricanes, tornadoes and even earthquakes. If a problem does arise, highly trained service technicians are only a phone call away.
We are here to serve your needs
Call today for our Steel Building specials: 1-800-457-2206
For details and pricing information Click here
With Crown Steel Buildings® you get all this and more!
World's most durable pre-engineered building designed to withstand the harshest weather conditions on earth including heavy snow, hurricanes, tornadoes and even earthquakes
35 year perforation guarantee backed by U.S. steel mills
40 year warranty on the paint
Maximum usable space for minimum financial investment
Completely clear span with no beams or posts to get in the way
Completely fire resistant
No rotting wood
Designed by the best engineering professionals in the U.S.
Remarkably affordable
Voted superior to similar style buildings
Made from the highest quality, heaviest-gauge commercial U.S. steel available
Simple bolt-together construction
Easily expanded to any length
Completely maintenance free
Fire resistant
Computer aided design and manufacturing
Every building custom made to customer specifications
Friendly and highly skilled customer service personnel
Manufactured exclusively in the United States
Highly versatile, perfect for virtually any commercial, industrial, or consumer application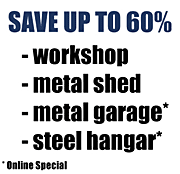 Crown Steel Buildings®, offer high sidewall clearance, and an unbeatable unobstructed clear span of 100% usable space. And, they are remarkably affordable.

Now available in color!
About Us
Specials
Price A Building
Models
Assembly
Features
FAQs
Contact
Home | About Us | Contact Us | Price a Building | Request Brochure | Site Map | Links
©2009 Crown International Steel Building Systems®